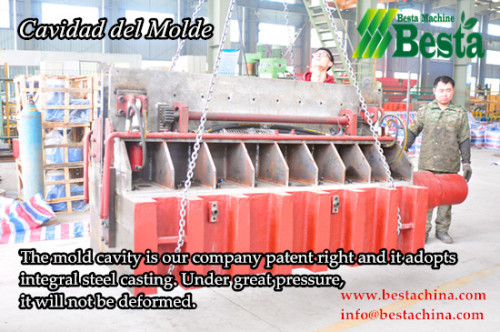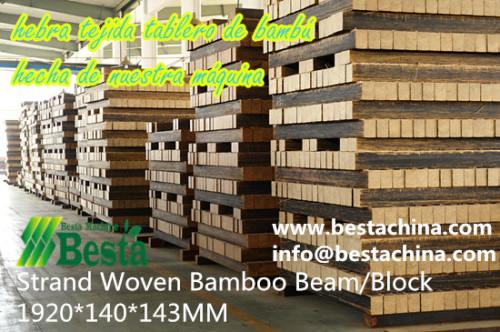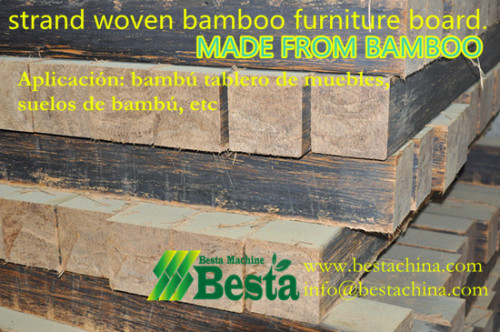 Mundo mejor tejido filamento de bambú piso de la máquina
Descripción
BESTA BAMBOO MACHINE CO., LIMITED--WORLD BEST BAMBOO FLOORING, BAMBOO FURNITURE BOARD SUPPLIER.
NAME: Strand Suelo de bambú tejido de la máquina, tejido filamento muebles de bambú que hace la máquina de planchar
Drying Machine (also called Drying Tunnel/Dryer)
secado de la máquina, máquina de secado de la tira
Advantages: Ventajas
1. Two Layer, Double independent type. Each Layer has individual radiator.
De dos capas, de doble tipo independiente. Cada capa tiene radiador individual.
2. The material feeding and discharging are conducted alternately.
It effectively reduces the labor.
La alimentación de material y la descarga se llevan a cabo alternativamente.
Reduce eficazmente el trabajo
3. The whole drying tunnel is divided into 3 to 4 zones. The temperature of each area can be adjusted and it is very easy and convenient to control the moisture content.
El túnel de secado entero se divide en 3 a 4 zonas. La temperatura de cada zona se puede ajustar y es muy fácil y conveniente para controlar el contenido de humedad.
4. After proper adjustments and optimizing measures, the capacity of drying can reach 28 Tons and with well—balanced moisture.
Stable Performance and minimum failure rate.
Después de los ajustes adecuados y medidas de optimización de la capacidad de secado puede llegar a 28 toneladas y con la humedad bien balanceada.
Funcionamiento estable y la tasa de fracaso mínimo.
Specialized Hydraulic Press
Advantages:
1. The press adopts custom steel plate overall cutting and forming. All stressed areas are welding free which greatly increases the firmness and reduces the press deformation
La prensa adopta la placa de acero de encargo global corte y de conformación.
Todas las áreas estresadas son soldadura libre que aumenta en gran medida la firmeza y reduce la deformación de prensa
2. The press is adopted by piston cylinder. The piston cylinder with three oil seal, reducing the possibility of leakage. The cylinders are used for export products, reliable quality, with one year warranty
La prensa es adoptado por cilindro de pistón.
El cilindro de pistón con tres sello de aceite, lo que reduce la posibilidad de fugas. Los cilindros se utilizan para productos de exportación, la calidad confiable, con un año de garantía
3. The oil circuit is simple, modular, easy to maintain.
El circuito de aceite es simple, modular y de fácil mantenimiento.
4. We have enhanced protection measures, protecting the machine from damage by incorrect operation by the workers.
Hemos mejorado las medidas de protección, la protección de la máquina del daño causado por la operación incorrecta de los trabajadores.
Mold Cavity:
1. The mold cavity is our company patent right and it adopts integral steel casting. Under great pressure, it will not be deformed.
La cavidad del molde es nuestro derecho de patente de la empresa y que adopta la fundición de acero integral. Bajo una gran presión, que no se deforme.
(Remarks: The mould cavity made by welding will lead to the deformation of the products and the finished product density could not satisfy the requirements.)
2. The mould cavity is made by ONE TIME forming
La cavidad del molde se realiza por UNA VEZ formando
By Longmen CNC milling and process by rough milling, proper heat treatment (annealing) ,removing the internal stressing and do further fine machining, ensuring the integral precision.
Por fresado CNC Longmen y el proceso por el fresado de desbaste, tratamiento térmico adecuado (hibridación), eliminando el mecanizado más bien interna desestresante y hacer, lo que garantiza la precisión integral.
3. We inducted and enhanced some protections for this machine.
Nos instalaron y mejoramos algunas protecciones para esta máquina.
Loading Machine (also called feeding machine)
The loading machine is our company patent products. It uses chain type, reducing the space, easy for the worker to operate and ensure the materials are well placed.
La máquina de carga es nuestros productos de la patente de la compañía. Utiliza el tipo de cadena, lo que reduce el espacio, fácil para el trabajador de operar y asegurar los materiales están bien situados.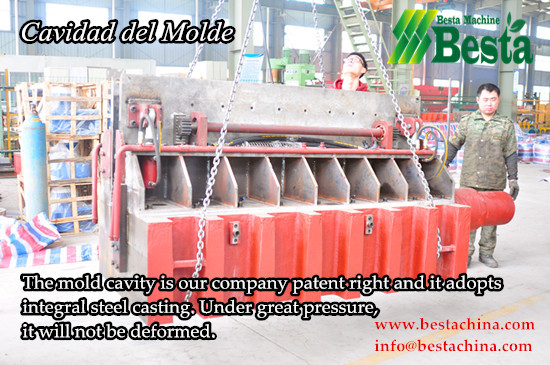 Mould
Adopting special steel and special technology (The steel type and technology are our protected secret and other companies do not have). The materials we use for making the moulds are the best in the strand woven block moulds.
La adopción de aceros especiales y de tecnología especial (El tipo y la tecnología de acero son nuestros protegidos empresas secretas y otros no tienen). Los materiales que utilizamos para la fabricación de los moldes son los mejores en las hebras tejidas moldes de bloques.
Curing Machine (also called Solidification Tunnel)
1. The curing machine (also called solidification tunnel is adopting high temperature insulation board) Do not need civil work.
2. The length of curing machine reaches 50 meters and is divided into 3-5 zones.
The temperature of each zone is different and
It is easy to control the color and other parameters.
3. We suggest curing machine by thermal oil heat supply. It will reduce the energy consumption.
Each block can save about 0.25 USD
La máquina de curado (también llamado túnel de la solidificación es la adopción de paneles de aislamiento de alta temperatura) no necesitan obra civil.
La longitud de la máquina de curado llega a 50 metros y se divide en zonas 3-5.
La temperatura de cada zona es diferente y
Es fácil de controlar el color y otros parámetros.
Sugerimos máquina de curado mediante el suministro de calor de aceite térmico. Esto reducirá el consumo de energía.
Cada bloque puede ahorrar alrededor de 0,25 USD